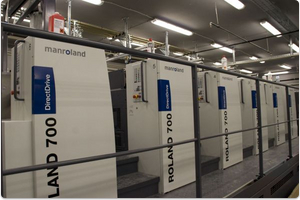 New Offset Technological Printing Line
2009.04.15
As of today, April 15th 2009 an offset technological printing line, based on the machine MANROLAND 705 – Direct Drive which is the latest model of the machines with the brand MANROLAND and by the present moments it the only one of its kind in East Europe was put into operation in the printing house in the city of Varna. The whole technological line consist of brand new machines, produced by leading European companies and particularly includes the following supporting machines: 1 обръщаща machine, 2 folding machines, 1 влагочно - sewing machine, 1 sticking and binding machine for the production, latest model CTP with conventional aluminium plates with the brand Lusher and a stamping machine.
All machines included in the new technological printing line have passed the respective tests which continued approximately 2 weeks and by the present moment have reached their project capacity and quality. The speed which the printing line reaches according to its project capacity is 14 thousand imprints per 1 hour, as the sewing machine produces 7 thousand products per 1 hour and the sticking and binding machine – 6 thousand issues per 1 hour.
By the end of the current month it is expected to be completed the installation of the automatic system for supplying ink to the sections of the printing machine.
In the field of the offset printing BILLBOARD Plc shall keep on performing its activity on the territory of the city of Varna through its subsidiary DEDRAX Ltd. The management of both companies consider that the great capacity, the high speed and the exclusive quality of the production produces by means of the new technological printing line will give the opportunities to many companies from the East part of Bulgaria and Romania to use printed production and services which meet the highest European standards.

Междинен консолидиран финансов отчет към 30.09.2022 г.
2022.11.22
БИЛБОРД АД представи на КФН, БФБ-София АД и обществеността междинен консолидиран финансов отчет към 30.09.2022 г.

Междинен индивидуален финансов отчет към 30.09.2022 г.
2022.10.27
БИЛБОРД АД представи на КФН, БФБ-София АД и обществеността междинен индивидуален финансов отчет към 30.09.2022 г.

Междинен консолидиран финансов отчет към 30.06.2022 г.
2022.08.23
БИЛБОРД АД представи на КФН, БФБ-София АД и обществеността междинен индивидуален финансов отчет към 31.03.2022 г.